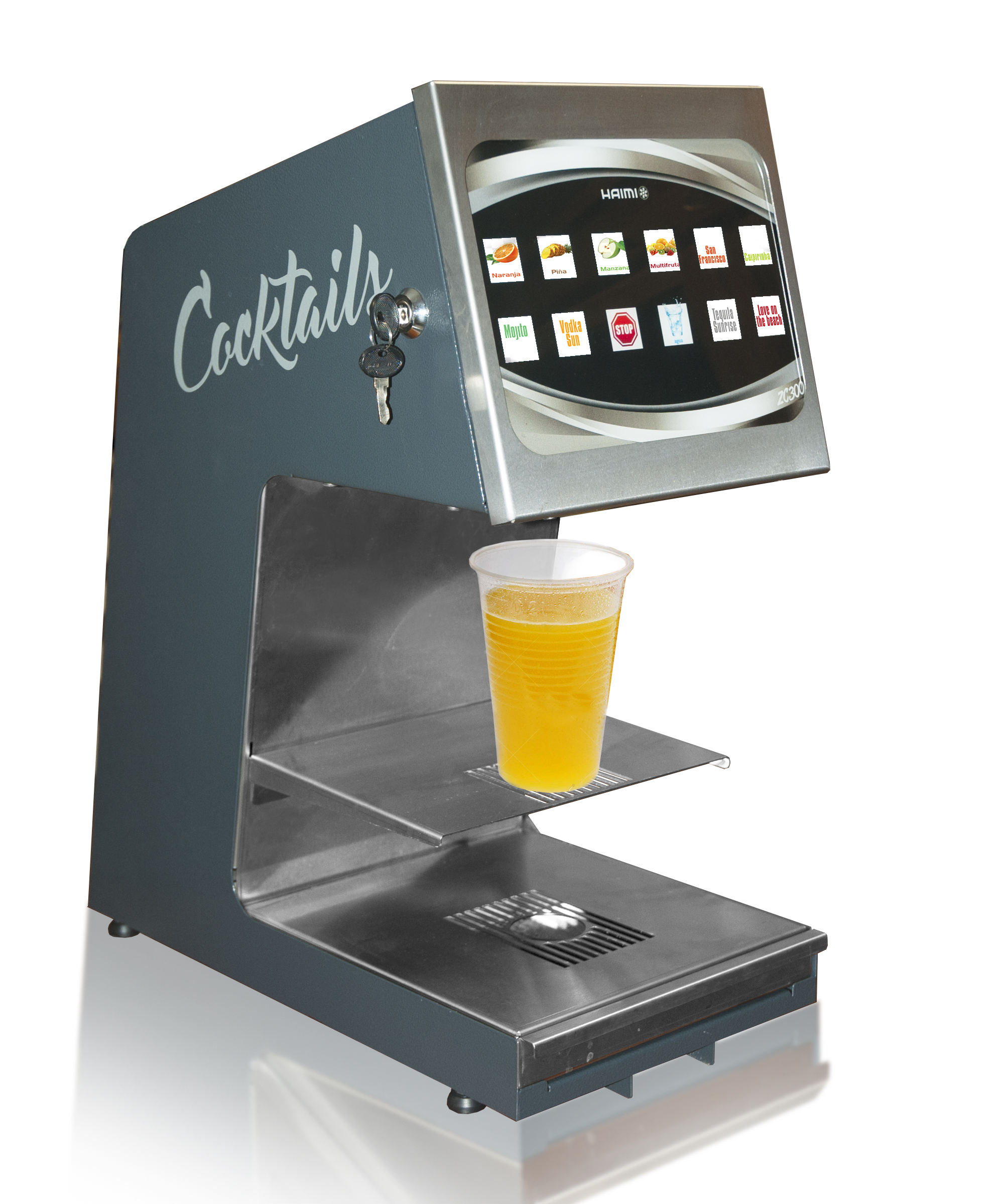 Beverage Dispenser ZC300
All type instant beverage dispenser.
10 channels + water.
- Entirely manufactured in stainless steel
- Independent mixing system (activation/deactivation) and independent speed regulation per channel
- Electronic regulation of all components (pumps, agitators, electrovalves etc.)
- Independent channel counter
- Cold water service
- Inlet water supply
- Drainage tray to water network
- Adjustable self-cleaning counters
- 285mm x 625mm x 505mm (width x height x depth)
- Voltage 230AC
- Easy configuration
- Product label easily exchanged
- Front screen customization
- Non-return and anti-drip valves
- Interior front lighting
- Independent lighting per channel
- Capacitive touchscreen
Beverage dispenser for 10 channels
We introduce our smallest dispensing machine. The ZC300 model and is an instant dispenser of up to 10 channels (plus another for water). It is made of stainless steel and includes a mixing system that you can activate or deactivate by channel. In addition, it allows speed regulation by service.
It is a technologically advanced machine with electronic regulation of all internal components, such as pumps, agitators, electrovalves, etc ... so that you can always have it running at maximum performance. Includes an independent counter for each channel to optimize it at best.
This instant dispenser includes an extra channel for water, which you can connect to the network, to take and drain water. In addition, it includes an adjustable self-cleaning system. The machine configuration is really simple so you can take maximum advantage of its features.
The label can be changed, as well as the front head of the machine that can be customized with your design. This is a service we Haimi Group offer so you can place your company logo, the brand you prefer or the name of your business. This machine does not include a cold group, which makes it easy to instal anywhere (a bar, a terrace, etc ...). The touchscreen is capacitive.
Contact us!
How can we help you? Contact us!
Basic information about data protection:
| | |
| --- | --- |
| Accountability | HAIMI |
| Purpose | Subscription list management. Provide requested services or information. Send promotions, newsletters and special offers. |
| Authorization | The legal basis for the processing of your information is your consent. |
| Recipients | We will not share personal data upon legal obligation. |
| Rights | Access, rectify and delete data, as well as other rights, as explained in the additional information. |
| Additional information | You can check the additional and detailed information about data protection here. |