Optimum and efficient wine conservation
Haimi Group is expert in the production of wine coolers. We have a wide variety of wine fridges with compressors. They guarantee wine conservation for its enjoyment in optimal conditions. We have wine coolers in various sizes and storage capacity to cover all our customer needs with great quality, practicality and functionality.
The wine coolers are specifically designed for wine conservation, they have become an essential item in all business related to the catering industry. The wine culture is important and experts agree that the storage conditions directly influence their quality. In order to be fully enjoyed, wine must have been produced in specific conditions and above all, must be served at the correct temperature. In Haimi Group we offer wine coolers proof to be reliable thanks to their extraordinary ability to preserve and adjust wine temperature, offering an important value proposition and protecting wines. Our wine fridges respond successfully to the highest quality requirements and with our wide variety of sizes we can cover multiple needs. If you are interested to build on your catering project with a wine cooler, please contact us and we will assist you personally.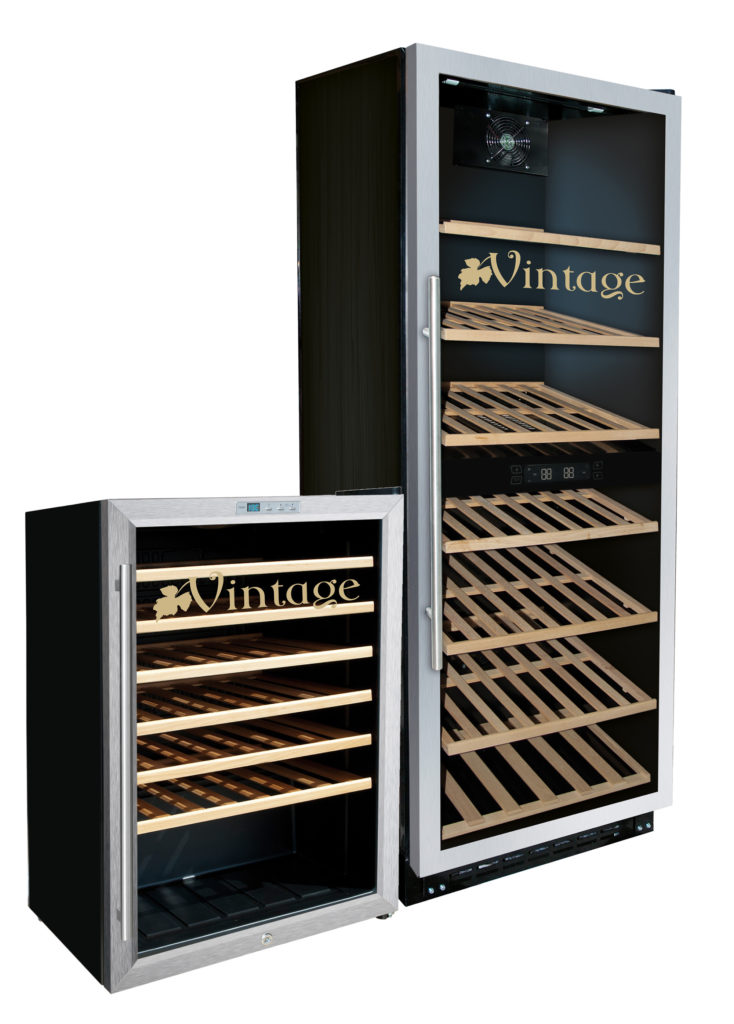 wine fridge
Customize your wine fridge with your brand image
You have the possibility to customize your wine cooler with the logo of your company on the glass display door, promote your company logo and give a unique and personal design to your wine store.
Vinotecas
Garantiza la conservación de tus vinos con nuestras Cavas para vino
El Grupo Haimi te ofrece una importante variedad en elementos para conservar el vino. Nuestras Cavas de vino, Vinotecas, son perfectas para completar el mobiliario de tu negocio de hostelería. Te ofrecemos un producto testado y destinado al canal Horeca. Conserva, protege y sirve el vino de la forma adecuada. Tus clientes te lo agradecerán. Descubre algunas de las características más relevantes de nuestras Vinotecas.
Gran variedad de modelos y tamaños
Diseños atractivos y elegantes
Amplios rangos de control de temperatura
Reguladores de temperatura
Tecnología avanzado con refrigeración uniforme
Bajo consumo de energía
Fabricamos cavas de vino a medida
Cavas personalizadas
Componentes de alta calidad
Proyectos para hostelería canal horeca
We are manufacturers and distributors
Quality, Functionality and Design Reference Quality
Since its origins in 1991 Haimi has always tried to provide a solutions to an increasingly demanding market. Our extensive experience 25 years has given us a know-how in manufacturing, distributing and marketing industrial cooling systems with the purpose of getting a satisfied customer. In our catalog we have a wide variety of wine coolers for beers, drinks, and wines for correct conservation. We offer bespoke solutions in wine coolers. Trying to provide answers to the needs of our clients. adapting to the requirements of our client's space. In this innovation line, we have developed a range of bag-in-box juice, milkshake, beverage, and cocktail dispensers for hotels and buffets, with good technology and quality materials that supply excellent served drinks. Thanks to this constant innovation we have created our vending machines, easy to maintain and accepting different means of payment.
Contact us
How can we help you? Get in contact with us!
Basic information about data protection:
| | |
| --- | --- |
| Accountability | HAIMI |
| Purpose | Subscription list management. Provide requested services or information. Send promotions, newsletters and special offers. |
| Authorization | The legal basis for the processing of your information is your consent. |
| Recipients | We will not share personal data upon legal obligation. |
| Rights | Access, rectify and delete data, as well as other rights, as explained in the additional information. |
| Additional information | You can check the additional and detailed information about data protection here. |