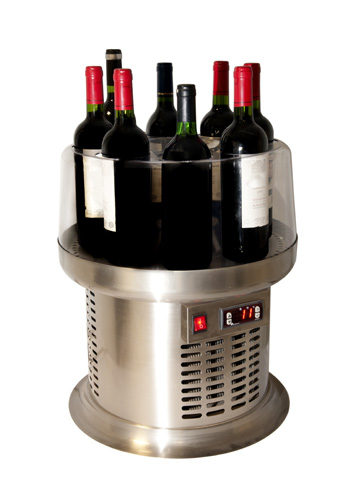 our offer
Wine cooler 8 bottles Expo 8

Small wine cooler with compressor for 8 bottles. Ideal for the perfect condition red wine storage. Perfect for small spaces having wine bottles on hand.
Range: Vintage
Maximum capacity: 8 bottles
Digital thermostat
With air circulation
Temperature range: 10ºC / 20ºC
Coolant: R134a
Voltage: 220V / 50Hz
Dimensions: (high x diameter): 470mm Ø420mm
Customization option with customer's logo
Discover our 8 bottle display wine cooler
With the small Expo 8 cellar you can store up to 8 wine bottles to have them on hand at the right temperature to serve right away. It is ideal for small spaces, having bottles on hand, and for bars and restaurants with bar service.
It includes a digital thermostat to control the temperature range so you can go from 10 to 20 degrees. It is not a closed cooler, so it allows air circulation. Its exterior is elegant and can be customized with your company's logo. Therefore, it is a very suitable display to have in view of customers.
If you are interested in the wine cooler for 8 bottles, get in touch with us, tell us what your needs are and we will attend you as best as we can.
Contact us!
How can we help you? Contact us!
Basic information about data protection:
| | |
| --- | --- |
| Accountability | HAIMI |
| Purpose | Subscription list management. Provide requested services or information. Send promotions, newsletters and special offers. |
| Authorization | The legal basis for the processing of your information is your consent. |
| Recipients | We will not share personal data upon legal obligation. |
| Rights | Access, rectify and delete data, as well as other rights, as explained in the additional information. |
| Additional information | You can check the additional and detailed information about data protection here. |