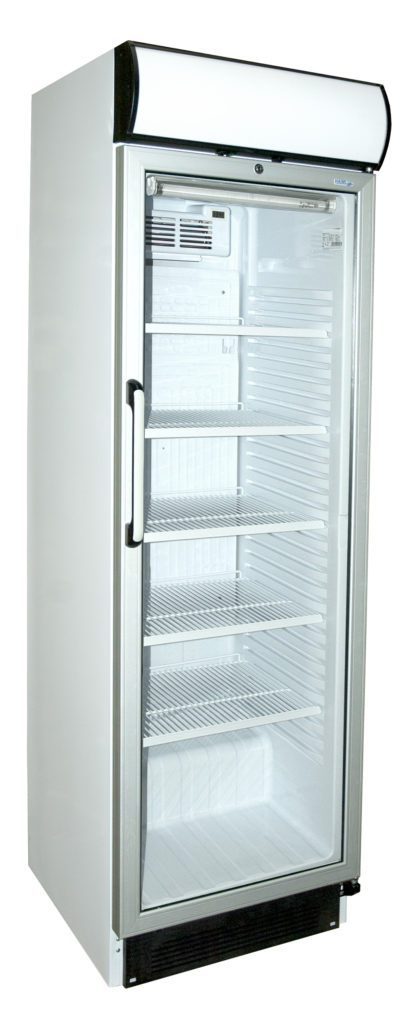 Commercial fridges
Drinks display fridge with large storage capacity

Large capacity fridge for drinks, soft drinks, bottles, and other products. Designed to display your products or drinks and keep them in perfect condition. Design with air circulation, extraction of condensed water and insulated glass door. Convenient and ideal fridge to display your products or drinks.
Design:
Range: Camfri
Capacity: 360 liters
Digital thermostat
Interior light spot
Luminous display for advertising
Features:
Removable and adjustable trays
Door with thermal insulation
Anti-vibration system
Door with lock and key
Temperature range: 1ºC / 10ºC
Technical data:
Coolant: R134a
Voltage: 230V / 50Hz
Dimensions: (width x height x depth): 595mmx1980mmx640mm
Weight: 78 kg
Customization option with customer's logo
CamFri 360, our largest display fridge for commercial use
Among our variety of items for the Horeca channel, we highlight our display fridge model Camfri 360. As the name suggests, it has a large capacity for 360 liters and is suitable for cooling drinks, soft drinks, bottles and a variety of products. Its design is elegant and includes a bright display on the top where you can place advertising. In addition, as with all our products, you can customize the front of the fridge with the logo of your company or brand. You will get a functional and at the same time very elegant furniture.
Includes a digital thermostat, interior light and removable and regular trays. The glass door includes thermal insulation, a lock, a key and an anti-vibration system. Its cold range goes between 1 and 10 degrees. It weights 78 kilos.
Contact us!
How can we help you? Contact us!
Basic information about data protection:
| | |
| --- | --- |
| Accountability | HAIMI |
| Purpose | Subscription list management. Provide requested services or information. Send promotions, newsletters and special offers. |
| Authorization | The legal basis for the processing of your information is your consent. |
| Recipients | We will not share personal data upon legal obligation. |
| Rights | Access, rectify and delete data, as well as other rights, as explained in the additional information. |
| Additional information | You can check the additional and detailed information about data protection here. |