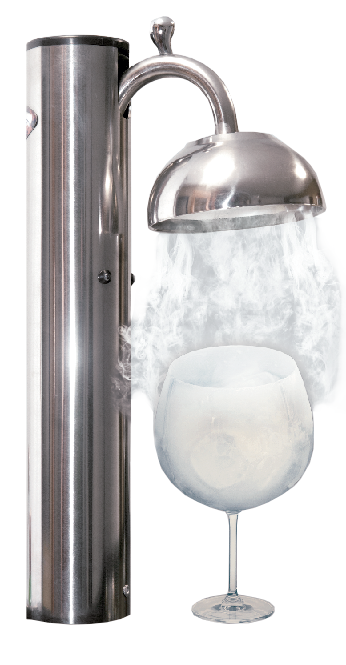 WE OFFER
Glass froster
The HAIMI glass froster is capable of freezing any type of glass in less than 5 seconds leaving it fully sterilized and without altering the drinks taste.
Unlimited capacity, the glasses do not drip.
Without electrical connection.
With attractive blue LED lighting when freezing the glass.
Capacity ..................... 1 cup
Coolant .................. Carbon dioxide
Weight .............................. 3 kg
Cups, glasses and pitchers froster
Discover this great bar, restaurants and hotel complement. It is a froster that will frost any of the containers where you serve drinks in a few seconds. It freezes and sterilizes the glasses, cups or pitchers instantly, without altering the flavor of drinks. It works using carbon dioxide (CO2) as a coolant. It is a highly valued accessory by the Horeca channel that will impact your customers by its speed and quality. Thanks to this glass froster, you will not need to have freezers full of frozen glasses, you can save space and money by frosting on the spot whenever you need it. Avoid odors and unnecessary expenses with our froster.
Contact us!
How can we help you? Contact us!
Basic information about data protection:
| | |
| --- | --- |
| Accountability | HAIMI |
| Purpose | Subscription list management. Provide requested services or information. Send promotions, newsletters and special offers. |
| Authorization | The legal basis for the processing of your information is your consent. |
| Recipients | We will not share personal data upon legal obligation. |
| Rights | Access, rectify and delete data, as well as other rights, as explained in the additional information. |
| Additional information | You can check the additional and detailed information about data protection here. |