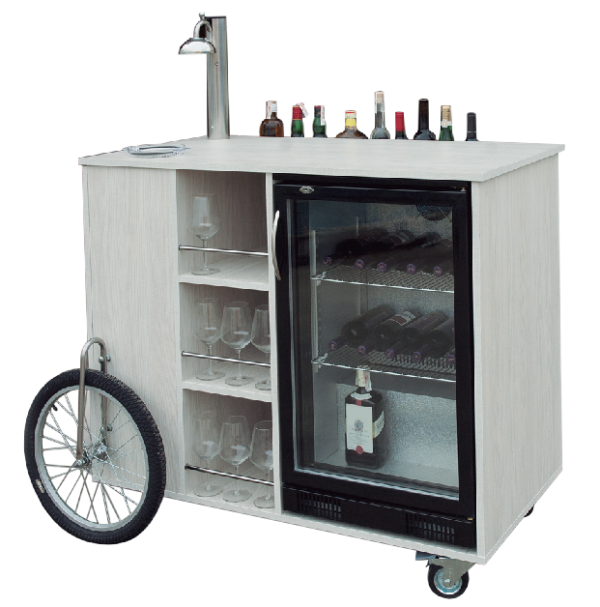 Outside events
Mobile cocktail bar CamFri 98
- Complement for the cup froster
- Comfortable to use
- Incorporated CamFri 98 cooler to keep perfectly conditioned drinks
Mobile, versatile, quick, easy to use and fun bar with fridge and glass froster
This is our most complete service cart. Includes glass froster and a built-in fridge. It is available in light veined color which allows it to fit in all kinds of decorative styles. It is a practical element for the catering industry and can be used in terraces, gardens to ultimately help you complete your outdoor services.
It is a complete and practical cart for all types of beverages, allowing you to offer frosted and sterilized glasses in a fast, efficient and practical way. You will avoid having freezers filled with glasses, saving space and money. It also includes a cooling fridge to have cooled bottles. It is a very interesting furniture piece since. In addition to the fridge and glass froster, you can store and preserve drinks properly. It also has a built-in ice bucket and swivel wheels to move it easily.
Contact us!
How can we help you? Contact us!
Basic information about data protection:
| | |
| --- | --- |
| Accountability | HAIMI |
| Purpose | Subscription list management. Provide requested services or information. Send promotions, newsletters and special offers. |
| Authorization | The legal basis for the processing of your information is your consent. |
| Recipients | We will not share personal data upon legal obligation. |
| Rights | Access, rectify and delete data, as well as other rights, as explained in the additional information. |
| Additional information | You can check the additional and detailed information about data protection here. |