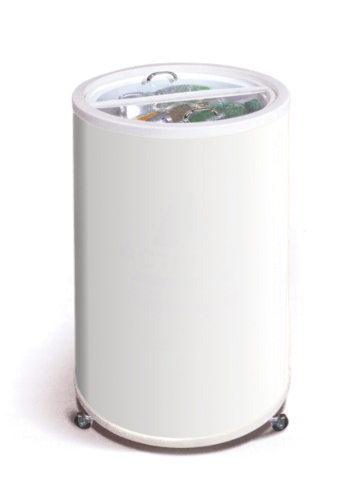 Small fridge
Barrel shape fridge designed for promotions
Round fridge with cylinder/can shape for beers, soft drinks, bottles and other products that require cold. Ideal for promotions.
Design:
Range: Camfri
Capacity: 40 liters
Manual thermostat
Folding doors
Rotating wheels
Features:
Anti-vibration system
Temperature range: 3ºC / 10ºC
Coolant: R134a
Voltage: 220V / 50Hz
Dimensions: (high-diameter): 740mmx440mm
Technical data:
Weight: 20 kg
Customization option with customer's logo
Upright and can shaped fridge with swivel wheels CamFri Cubo
Discover one of our funniest fridges. It is a cooler with an interesting barrel shape. It is ideal for drink promotions and stores products that require cold. It has a large capacity of up to 40 liters.
It includes rotating wheels at the base of the fridge, so you can move it comfortably, even when it's full of products. It has an integrated manual thermostat and doors at the top. It has an anti-vibration system and a temperature range from 3 to 10 degrees.
It weighs 20 kilos and has a height of 740 cm. Besides to the interesting shape of this fridge, the best thing about it is that you can customize it completely with a logo, a brand, a name or even a drawing. So it is very suitable for promotions, parties, celebrations, etc …
Contact us!
How can we help you? Contact us!
Basic information about data protection:
| | |
| --- | --- |
| Accountability | HAIMI |
| Purpose | Subscription list management. Provide requested services or information. Send promotions, newsletters and special offers. |
| Authorization | The legal basis for the processing of your information is your consent. |
| Recipients | We will not share personal data upon legal obligation. |
| Rights | Access, rectify and delete data, as well as other rights, as explained in the additional information. |
| Additional information | You can check the additional and detailed information about data protection here. |