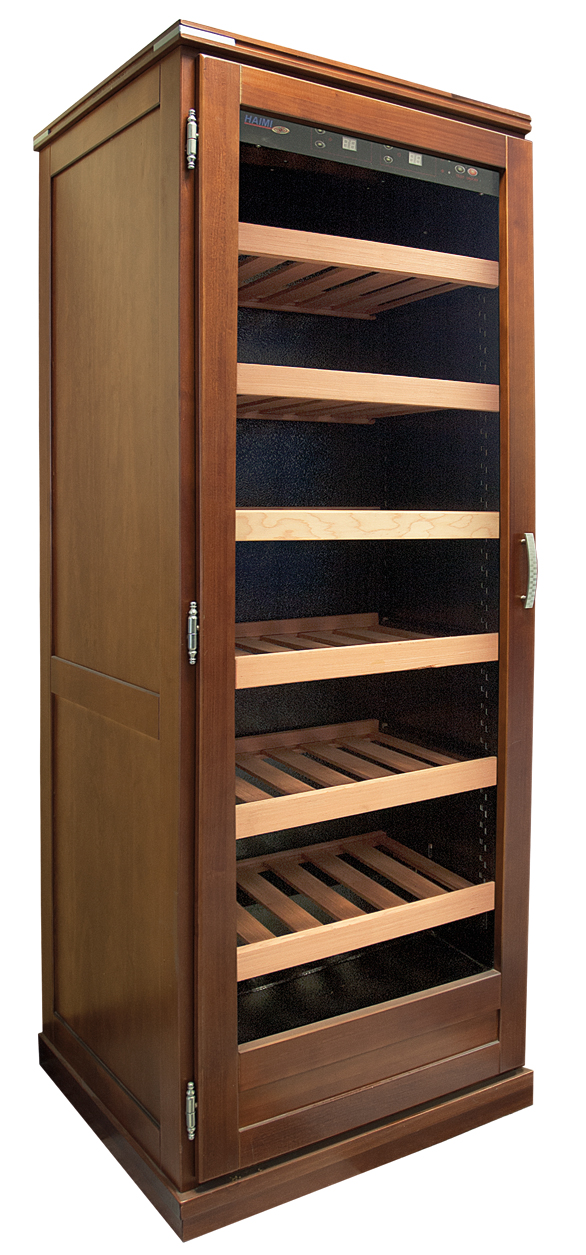 modular furniture
Sophisticated and stylish modular wine cooler
Large wine cooler in 2 temperatures with compressor for 150 bottles. Great capacity. You will be able to store red, white and rosé wines at the same time preserving the properties of each type of wine in perfect conditions. You can choose the wooden dye that best suits your decoration. Ideal to enjoy your wines in perfect conditions. It gives a modern and distinguished touch to the space where it will be located. It can be combined with other furniture in this range. Practical and modern.
Design
Range: Creation
Maximum capacity: 150 bottles
Dye of the wood chosen by the client
Digital thermostat
Interior light spot
features
Interior light spot
Removable wooden trays
Door with thermal insulation
Anti-vibration system
Temperature range: 5ºC / 20ºC
Technical data
Coolant: R600a
Voltage: 220V / 50Hz
Dimensions: (width x height x depth): 625mmx1765mmx600mm
Customization option with customer's logo
L2, modular and modern wine cabinet for up to 150 wine bottles
Within the range of modern wooden wine coolers available in Haimi Group, Modern wooden wine cabinet L2 of Creation range stands out. We are talking about a wine cabinet with capacity for up to 150 bottles that also allows two different temperature zones which will allow you to store and preserve different types of wines. You can control, thanks to the digital thermostat on the door, the temperature, that ranges between 5 and 20 degrees.
This modern wine cabinet L2 is large on size and its modern design combines perfectly with all kinds of decorative styles. You can combine it with other furniture from the same range to build a high quality and design space for wine storage. The wood can be tinted to your taste to offer a modern, elegant and very distinguished touch.
It includes a door with thermal insulation, anti-vibration system, removable wooden trays, and an interior light spot. You can customize the front with a brand, a logo, or the name of your company.
Contact us!
How can we help you? Contact us!
Basic information about data protection:
| | |
| --- | --- |
| Accountability | HAIMI |
| Purpose | Subscription list management. Provide requested services or information. Send promotions, newsletters and special offers. |
| Authorization | The legal basis for the processing of your information is your consent. |
| Recipients | We will not share personal data upon legal obligation. |
| Rights | Access, rectify and delete data, as well as other rights, as explained in the additional information. |
| Additional information | You can check the additional and detailed information about data protection here. |